Superior Commercial Water Treatment Services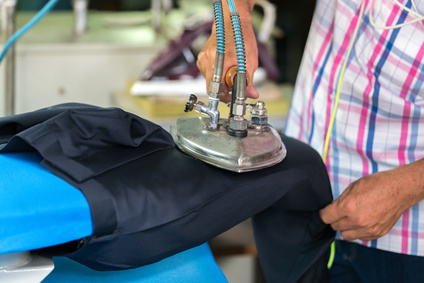 Right now, minerals in the water running through your equipment could be building up, reducing efficiency and performance, increasing your cost of operation and decreasing service life—that translates into less profitability for your business.
By installing our water conditioners, you can reverse these negative effects and reap the benefits of retained efficiency and equipment longevity—without energy costs or chemicals. Based in Fort Wayne, we provide commercial water treatment services worldwide thru our dealer network.
For agricultural/irrigation systems, in addition to scale and corrosion control in equipment, Superior Manufacturing Corporation's water conditioners reduce water usage by up to 30% and fertilizer usage by as much as 50% by reducing surface tension and solubility. These benefits help to eliminate the need for wetting agents with no loss in irrigation effectiveness.
HVAC Systems
Swamp Coolers
Humidifiers
Food Service Equipment

Ice Machines
Coffee Makers and Other Hot Drink Equipment
Steam Cookers
Dishwashers, etc.

Car/Truck Washes
Agricultural/Irrigation Systems
Swimming Pools/Spas
Laundromat Equipment
Don't see your application listed? Superior Water Conditioners provide benefits for hundreds of commercial applications, as well as specifically designed units for Original Equipment Manufacturers.
MODEL SPECIFICATIONS FOR FOOD SERVICE & OTHER COMMERCIAL APPLICATIONS

| Model No. | Capacity | Inlet-Outlet Connections | Diameter | Length | Weight |   |
| --- | --- | --- | --- | --- | --- | --- |
| C-5 | 3 GPH | 1/4″ Compression | 1 1/4″ | 4 7/8″ | 1 lb. |   |
| C-10 | 6 GPH | 1/4″ Compression | 1 1/4″ | 5 3/8″ | 1.1 lb. |   |
| C-25 | 15 GPH | 1/4″ Compression | 1 1/4″ | 7 5/8″ | 1.5 lb. |   |
| C-50 | 30 GPH | 1/4″ Compression | 1 1/4″ | 8 5/8″ | 1.7 lb. |   |
| C-75 | 45 GPH | 3/8″ Compression | 1 1/4″ | 9 5/8″ | 2 lbs. |   |
AGRICULTURAL/IRRIGATION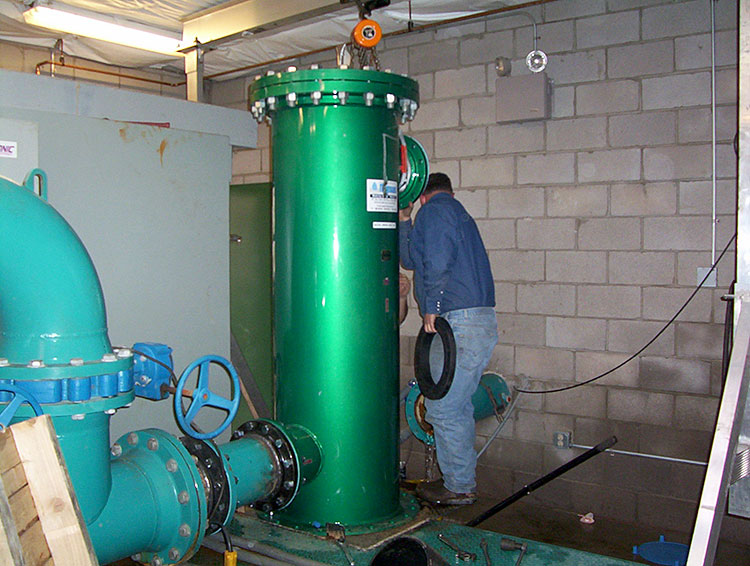 MODEL SPECIFICATIONS FOR AGRICULTURAL/IRRIGATION APPLICATIONS

| Model # | Max Flow Rate | Connections |   |
| --- | --- | --- | --- |
| SF-1500 | 50 | 1 1/2″ Flange |   |
| SF-2000 | 75 | 2″ Flange |   |
| SF-2500 | 110 | 2 1/2″ Flange |   |
| SF-3000 | 175 | 3″ Flange |   |
| SF-4000 | 250 | 4″ Flange |   |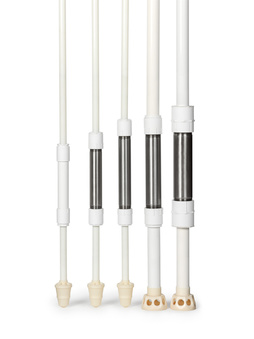 Our commercial water treatment services in Fort Wayne can help in the following applications:
HVAC System – If you don't top up your heating/cooling systems with purified water, a water conditioner is a wise investment. It will prevent corrosion, bacteria buildup, and fouling in a closed-loop system. The result would be sustained optimal performance.
Food Service Equipment – Our superior water conditioner delivers better results than typical softening, reverse osmosis, and other forms of mineral reduction in food water systems.
Agricultural/Irrigation Systems – The most common sources for agricultural water supply include groundwater, surface water, and wastewater. As producers of crops, a customized water conditioner will add protection to your irrigation system and eliminate the need for wetting agents.
Other Applications – Water conditioning is important wherever there's a constant water flow. Scale buildup and corrosion can occur in, among others, swimming pools, car/truck wash, and laundromat equipment. Thus, water treatment can maintain the performance of the system, lower maintenance costs, and ensure an efficient water supply.
Fort Wayne's Superior Manufacturing Corporation provides better commercial water treatments, eliminating energy costs and contributing a more effective water filtration solution.
How Our Commercial Water Conditioners Work
The Superior Water Conditioning Treatment systems are custom designed to allow safe and desirable elements to remain in the water such as calcium, magnesium and other minerals that are beneficial for human consumption.
While not a water softener and should not be represented as such, Superior Water Conditioners do, however, physically condition the water in such a way that precipitated hard water minerals enter into a state of suspension, rather than forming hard calcite scale on heat transfer surfaces. This chemical-free water treatment process improves and preserves the efficiency and lifespan of water heaters, dishwashers, ice makers, humidifiers and overall plumbing systems.
Superior Water Conditioners also reduce the surface tension of water, which naturally offers additional benefits. The application of one of our DU models, installed with a media-type filter not only treats the water supply for scale control, but also enables a more thorough and effective backwashing of filter media.
Superior Water Conditioners' treated water is compatible with Green Sand, Birm, GAC, KDF and even ion-exchange resins, and will provide improvements over just filtering or softening alone. When backwashing a softener with treated water, the resin bed will remain loose and will not pack over many years of use, which will extend softener life, increase efficiency, reduce salt consumption and conserve water.
Other benefits of reducing water surface tension include reduced spotting on dishes, silverware and even shower doors. Treated water is also effective in washing down house siding, windows and automobiles.
As an innovative commercial water treatment service provider in Fort Wayne, we aim to help your facilities maintain efficiency and save costs. Call or email us today for more information on our products or applications.
SPECIFICATIONS FOR OEM APPLICATION OF DU MODELS IN WHOLE HOUSE TANK TYPE FILTERS

| Model # | Capacity | Riser Tube | Diameter | Length | Weight |
| --- | --- | --- | --- | --- | --- |
| DU-8 | 8 GPM | 3/4″ or 1″ | 2″ | 12 3/8″ | 4 lbs. |
| DU-15 | 15 GPM | 3/4″ or 1″ | 2 3/16″ | 13 5/8″ | 5 lbs. |
| DU-25 | 25 GPM | 3/4″ or 1″ | 2 1/2″ | 17 1/8″ | 6 lbs. |
| DU-50 | 50 GPM | 1 1/2″ | 2 7/8″ | 15 11/16″ | 7 lbs. |
| DU-75 | 75 GPM | 1 1/2″ or 2″ | 3 5/8″ | 18 1/8″ | 10 lbs. |
SPECIFICATIONS FOR OEM APPLICATION OF CE MODELS FOR PRE-TREATMENT OF R.O. SYSTEMS

| MODEL # | CAPACITY | CONNECTIONS | O.D. | LENGTH |   |
| --- | --- | --- | --- | --- | --- |
| CE-R.50-2 | 2 GPM | 1/2″ MNPT | 0.84″ | 10″ |   |
| CE-R.75-4 | 4 GPM | 3/4″ MNPT | 1.05″ | 10″ |   |
| CE-R1-8 | 8 GPM | 1″ MNPT | 1.32″ | 10″ |   |
| CE-R1.25-15 | 15 GPM | 1 1/4″ MNPT | 1.66″ | 10″ |   |
| CE-R1.50-20 | 20 GPM | 1 1/2″ MNPT | 1.90″ | 12″ |   |