What is Water Conditioner Treatment?
The purpose of requesting a magnetic water conditioner treatment for your home or business is to remove and control limescale in your equipment, appliances, and related plumbing system. Superior Water Conditioners offers the best water conditioner option available to provide this service.
We are a family-owned business that has helped home and business owners worldwide improve the quality of their water, extend their equipment life, and reduce energy costs. We look forward to doing the same for you.
Cost-effective water treatment
Energy savings
Water conservation
Pollution prevention
Hard Water Conditioner
The buildup of lime scale can cause significant damage to appliances, equipment, and related plumbing systems. Hard water, when left untreated, can reduce equipment and appliance efficiency and life, and cause the need for periodic maintenance and expensive service calls. A hard water conditioner treatment from Superior Water Conditioners breaks up existing lime scale in retro-fit applications, and keeps new scale from forming, eliminating these problems.
The Magnetic Water Conditioner Process
A magnetic water conditioner does not actually soften water as does a salt-using system, but rather alters the harmful effects of the hardness minerals in the water. Working with the best water conditioner company to complete this process offers several benefits. Some of the most important ones include:
No salt or other chemicals required
Water quality improvement
Reduction in scaling
Lower operating costs
Less maintenance
Fewer service calls
Extended appliance and equipment life
Build-Up of Hard Water in Pipes and Water Heaters
When hard water is not conditioned, it causes buildup of scale inside of pipes, water heaters, and other equipment and appliances, thus impeding their performance. This build up of scale creates an insulating effect on the heat transfer surfaces of water heaters and other appliances and equipment, thus reducing the transmission of heat, which leads to higher fuel bills, the need for periodic maintenance and costly service calls, and premature failure.
It is far better to take a proactive approach by installing a magnetic water conditioner than to deal with blocked pipes or equipment that fails to do the job it was intended for.  You can ensure your satisfaction and that of others in your home or at your workplace by not allowing the scale to accumulate in the first place.
How to Know if You Have a Hard Water Problem
Some people do not buy water conditioner systems or arrange for water conditioner treatment because they are not aware that they have a problem with hard water. Some of the most obvious indications that you have hard water include:
Your soap and shampoo do not lather well when you take a shower
You notice spots on your dishes when removing them from the dishwasher or washing them by hand
Your clothes have noticeable spots on them and feel more uncomfortable each time you wear them
You notice scale deposits on your coffee maker
Your bathtub has what appears to be a dirt ring that is hard to remove
Your drinking water has an unpleasant odor or unusual taste
Your water heater and other appliances either fail or start to lose efficiency due to scale build up
Hard water issues are incredibly common among homeowners. The United States Geological Survey states that up to 85 percent of all households in the United States have hard water and could benefit from top water conditioner treatment.
The water treatment industry measures the hardness of water by GPG, which stands for grains of calcium and magnesium minerals per gallon, or by PPM, which stands for parts per million of these minerals. One GPG is equal to approximately 17.1 PPM. Water that contains more than 1 GPG is technically considered hard water. A rating of 3.5 GPG is moderately hard water, and 10.5 GPG or more is very hard water. The water in some homes and businesses is even much harder than this.
Since many people do not realize they have a hard water problem until they encounter a major malfunction and expense, we recommend an investment in water conditioner services as soon as you move into your home or purchase a business. Superior Water Conditioners offers several types of residential and commercial water conditioner services. We will highlight some of them below.
Residential Water Conditioner Treatment
Multiple areas of your home depend on a clean and free-flowing supply of water for the application to work properly. While your main line and water heater may be some of the most obvious areas that require water conditioner treatment, you may also wish to include some or all of the following when working with a water conditioner company:
Garden hose
Geothermal system
Humidifier
Ice maker
RO systems
Solar heater
Swamp coolers
When you receive residential water conditioner services, we consider your input along with the specifications of your plumbing system to ensure that the integration goes as smoothly as possible. Besides extending the lifespan of one or more home applications, water conditioner treatment also helps to reduce operating costs and the cost of more intensive maintenance or repair in the future.
Commercial and Industrial Water Conditioner Treatment
Superior Water Conditioners work with numerous commercial and industrial applications to achieve safe and high-quality water. This includes some typical equipment within an office environment such as coffee makers, ice machines, and dishwashers. It also includes businesses that rely on water to provide its main service. Common examples here include laundromats, car washes, swimming pools, and agricultural systems.
Some of the most common industrial applications that we provide water conditioner services for include boilers, furnaces, heat exchangers, cooling towers, and injection molding machines. However, none of these lists are a complete representation of the services we provide. If you own commercial or industrial property and struggle with hard water related problems, we can help. All you have to do is call.
In addition to improving water quality, lowering maintenance and repair costs, and reducing operational costs, you are also being environmentally responsible when you take a proactive approach to water management. The magnetic water conditioning process has no impact on the environment at all, but using salt or chemicals to control lime scale could mean that contaminated water ends up back in the environment.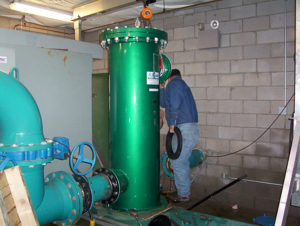 Contact Superior Water Conditioners Today
We didn't get to be one of the top magnetic water conditioner companies by doing only average work. We invite you to experience the difference for yourself by contacting us for more information.
Our Magnetic Water Conditioner Technology